Who Is Jehovih
If people know not their own darkness, who knows if they are not on the downward road?
We are told, to do good with all our wisdom and strength, and have faith therein, is being on the road to the All Highest. In believing in an All Person, a Creator, and that they should ultimately see Him, the ancients had an object in view. But with the growth of wisdom, we find we cannot realize an All Person, and so have no object in view, and recoil on ourselves.
In ancient times the Gods persuaded mortals to make stone idols and worship them. And they were sufficient until man attained more knowledge. Again came the Gods to mortals, inventing a large man-God in the sky, persuading them to worship him. He was a sufficient God till man learned to commune with angels, who contradicted that philosophy. Therefore we must ever have an All Highest Person so far ahead that we cannot attain Him. When we have surpassed a Person whose figure and condition we can comprehend, it is incumbent upon us to create within our own souls the thought of an All Person beyond our comprehensibility.
For a basis to reason from, consider the etherean (nirvana), the atmospherean (heavenly) and the corporeal (material) worlds to constitute His body; and the motion therein and thereof, the manifestations of His Power and Wisdom. Since we ourselves have these things in part, we find we have another attribute embracing all the others, which is combination concentrated into one person [binding into one sense of self, or unity of consciousness]. Then we give to Him, who embraces all things within Himself, combination concentrated into one person, otherwise, He is our inferior, which cannot be. [Buddhism says it is the 'Mindstream' that is the 'continuity' which links the Trikaya (three bodies or persons].

Jehovih is not a mere principle or that which is void. An incomprehensible state can not be substituted for His Person. He is not a nonentity without sense or unity of purpose but the very Entity and Person from whom we received our own entity and person. Could man be a person, save he sprang from a Person? Just as an entity has aspects, qualities and attributes, Jehovih is the Entity that is All Knowledge, All Light and All Person.
Can a man learn to sing who does not hear the harmony of a tune? How then can one harmonize with the Eternal Whole if one does not perceive Him? Would we forever put our instrument out of tune, and applaud those who are not attuned. Like a key-note is needed to tune a number of instruments to harmony, we need faith in an All Highest Person to live in harmony and be concerted in action.
To become attuned, first with oneself, then with one's immediate surroundings, then to Spirit and Jehovih so that one moves, acts, and comprehends harmoniously, is to become one with the Father, who is the Key Note of Harmony. Without Him, a man is as a ship without a rudder; the seas around about him drive him to ruin in the end.
Music is of two kinds: sounds and assimilation. Assimilation comes to the real matter of putting one's behavior in harmony with the community.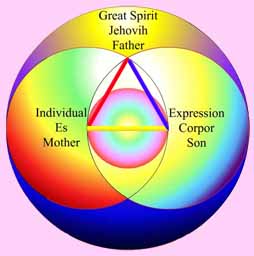 He imparted a part to all the living from his very self, so we are part and parcel of Him. His magnitude is beyond comprehension, and is seen in the glory of his works. As the sun is to the light of day so is Jehovih to the understanding of all the living. Though worlds come into being and go out of being, yet He remains.
As is the triangle, He is three things in one which are, first, the ghost, the soul, which is incomprehensible; second, the beast, the figure, the person which is called individual; and third, the expression, to receive and to impart. These three comprise all things; and all things are but one; nor were there more, nor ever shall be. Nevertheless, each have infinite parts, with every part like unto the whole. Each of all created things have these three attributes in them.
Universal Religion and Worship
It would be thought that God is to some extent known by all the religions of the world. Since God, or Great Spirit is understood by all religions to be Father/Mother of All, the source of all love and wisdom, Absolute Consciousness, Indweller/Self in all beings, it is important for us to contemplate, pray to and worship Him/Her so as to receive His/Her love and light and achieve harmony among ourselves and with our environment.
We see that world religions can't exist together as a united whole. Wasn't it for this reason that Theosophy said "there is no religion higher than truth", seeing that the creator has to be the same for all. Just as the scientific method sorts out conflicting theories of objective reality into a more streamlined proven model that leads ultimately to All Knowledge of the objective universe, it would be better to re-establish the unity of the whole by adapting a syncretism of the best unbiased subjective truths and philosophical essences common to all religions, rather than a representation of each religion, without losing sight of their wisdom and experience, but rejecting those parts that are in conflict, contradictory, and can not coexist together.
All paths to direct perception of God's light can only be taken step by step. Our progress towards truth should not hinder but assist the freedom of others at their stage of development. Religious practice for the core group (ie those willing to participate) can be weekly fasting, prayer and worship, in which sacred dance, music, devotional chanting and hymns can be a spontaneous unfolding of His Everpresence, each week being new and different, followed by a participatory satsang by any willing member, as a part of their self development, and meditation.

Here are some quotations from Oahspe: -
"I come to give a great religion, yet not to set aside the old; I come to such as do fulfil the old, and to give them the religion of the gods themselves"
"Without discipline, knowledge cannot be obtained; without discipline little good can be accomplished. Forms and ceremonies must accompany discipline; otherwise inharmony overcomes all. These are religion".
"To do good, with all of ones wisdom and strength is the highest religion" [Thomas Paine].
"The time of preaching is at an end, save when it is practiced in deed as it is spoken in words".
"When the discussion turns upon rites and ceremonies, which the community may adopt, or the music, or the discipline regarding funerals, or marriages, or births, the speakers shall remember that a family is composed of old and young; of sedate and jocose; and that every talent is created for the glory of the whole, and for the glory of the Creator; and they shall enlarge their understanding, to embrace the whole. Remembering, it is easier to walk beside a bull, and turn him in his course, than to come against him for the same purpose.
One person has joy in sacrifice (worship) by clapping his hands and dancing; another, in poetry; another, in singing; another, in silent prayers. And yet, one has no preference over another in sight of Him who created them, for they are His own handiwork. Consider, that you provide a time and place in the community for all of these in their own way, directing them holily".
Recovering the Children of the Future
If we are to have religion then it must have a purpose. This can be to drill us to act as a unit to carry out works of charity and harmony, love and righteousness. These can include the adoption of unwanted, abandoned, orphaned infants of all nations and races. Oahspe shows us that the egocentric tendency of those who act out of procreative desire prohibits them from the type of communal care required for founding the Father's kingdom on earth. This is best achieved by celibates who:

"feed, cloth and raise up these infants, not after any man's whim or conceit, but according to the accumulated wisdom collected from all the different nations and peoples in all the world, as to how to make the best corporeal and spiritual men and women."

Oahspe predicts Man will systematically learn to find the best way to make the best man and woman out of the infants entrusted to him:

"as to diet, clothing, comfort, cleanliness and avoiding disease; strength and suppleness and swiftness; virtue and modesty; practical and theoretical education; industry and quick perception; willingness to work for one another; trades and occupations; pastimes, amusements and recreations, singing, dancing, and playing with great joy and delight; worship, rites and ceremonies; acquiring seership, prophecy, signs and miracles, su'is (clairvoyance) and sar'gis (spirit manifestation); communing with angels and the value of angels as teachers and instructors by tangible presence and audible voices."

"And above all things, liberty shall be preserved unto all, with pleasant and enjoyable discipline for everything, after the manner of the heavenly kingdoms, cultivating every faculty to the utmost, teaching, from the first, that the eye of Jehovih is upon them, and that His hand is stretched over them, to bless them, according to their goodness, purity, love, gentleness and wisdom.
And that they shall not own nor possess individually; but that all things are Jehovih's, and they, themselves, are angels in mortal form, created by Jehovih to rejoice and to help one another forever."

Their offspring ultimately will give birth to a new race that has all the best and perfected attributes of all the others, and they will found new colonies that do "nothing for self sake, but for the good of man and for the honor and glory of Jehovih."

www.sacred-texts.com/oah/oah/oah600.htm
http://www.sacred-texts.com/oah/oah/oah601.htm
Visitors
The community will be a refuge for people seeking peace, companionship and support in an atmosphere of love and caring. You may stay with us to receive help according to your need (physical or emotional problems, unemployed, homeless, addicted etc.) and our evolving capacity to assist you.
Ownership
The heart of this land is set aside for service to, and worship of Great Spirit, I Am, Jehovih, the All within and without, beyond any conceivable thought or form, who is the Light and the Life of All. No god or goddess, lord or saviour, master or guru, any idol of a fanciful beast, object or any conceivable image is to be worshipped here. All great beings who have enhanced truth and love, and serve humanity and Jehovih, can be revered. There will be no requirement for any payment, save sharing what you will. But preparation is required, as meat, tobacco, alcohol or drugs is banned, although if you feel you belong with us but have difficulties that you are willing to overcome, you will not be turned away. Vegan diet or better, is encouraged. The so-called sacred drugs, or otherwise, can not be brought in. By these requests we hope to attract like minded people.
Who would want ownership save for some injustice or inequality or deficiency. The Earth can not be bought and sold. We came into the world naked. But for the sake of these ideals to be upheld ownership will be asserted where respect is lacking. The world is full of those who believe otherwise, so please grant us our small place in it to practice as we have chosen. Be in Peace, Love and Holy Light and be welcome.
Those who do good works for others and give love in return for hatred are Faithists. Whoever act in this spirit shall be the authority and owners of the property, regardless of belief and financial standing, answerable only to Jehovih, who is above all.

I quote: -
This is wisdom, O man, to have no law or government between man and wife.
This is ignorance, to have a law between man and wife.
Yet, because there are bad men and bad women who do marry, it hath been found necessary to have a law between man and wife, as regards their duties. But consider how wrong it is to have a law between a good man and a good wife, as regards her duties. Better is it for them to be thrown upon their own love and judgment.
After such manner gave I governments and laws unto all peoples. To the bad and evil-minded, rigid laws, with many details; but to the wise and good, I come now as an emancipator, saying: Go ye, without laws and government, fulfill your destinies according to your own judgment, that ye may be an honor and glory to Jehovih. In kosmon, man shall not be longer driven in yoke and harness, but shall stand upright before Jehovih, practicing his highest light with rejoicing, being a free man, and a brother to his God!

Another Quote from Oahspe:
It is a talent to hear My Voice. I bestowed it upon all the living; it is seated in the soul. By cultivation, it grows and becomes mighty above all other talents. By its culture, man attains to all possibilities, for so I created him.
When my voice is weak because of the darkness of people, they call me conscience, or set me aside as a faint impression. But, with cultivation, behold, my voice comes with words and with power. Such know me, and are mighty in good works and wisdom, a proof before the world that my voice exists.
Jehovih says: Whoso has not heard Me, is in darkness indeed. He has not yet turned his thoughts inward to purify himself and seek wisdom. Whoso has heard Me, knows it, and all the world can not convince him to the contrary.
---
We have an easily downloadable PDF format "Standard Edition" Oahspe in modern American language. Just upload the "OAHSPE Standard Edition for Screen Reading" PDF file. It will take a while to download, so dont give up while its downloading. In this format, it's easy to bring up all the instances where a word or phrase occurs. When it's uploaded, and on your screen, just click on the search icon (the binoculars symbol at the top of the Adobe Acrobat menu), and enter the word or phrase.
---
Back to Homepage
Idaho Web Design Tools